SUPPORT SERVICES
Capabilities include engineering support, test harnesses, laser wire marking, specialty braiding, and GSE interconnect solutions
Value Added Harness Support Services
Specialized capabilities include engineering support, supplying test equipment harnesses, laser wire marking, specialty braiding and various ground support equipment interconnect solutions.
Co-Operative Industries Aerospace teams with and supports fellow OEMs and manufacturing groups in their production efforts. Through partnering and building business-to-business relationships we can offer value-added, specialized services that can aid organizations by reducing manufacturing cost and improving throughput.
We offer the following wiring harness support services:
Wiring Harness Development, Build to Print, and PMA Solutions
Our engineering solutions include developing electrical wiring harnesses and cables from customer drawings or manufacturing custom wire harnesses based upon customer specifications. Supported by a newly expanded facility, CIA&D's design and manufacturing approach allows for on-time delivery of affordable, quality products. Specializing in environmentally engineered, repairable designs we offer solutions for today's challenging market.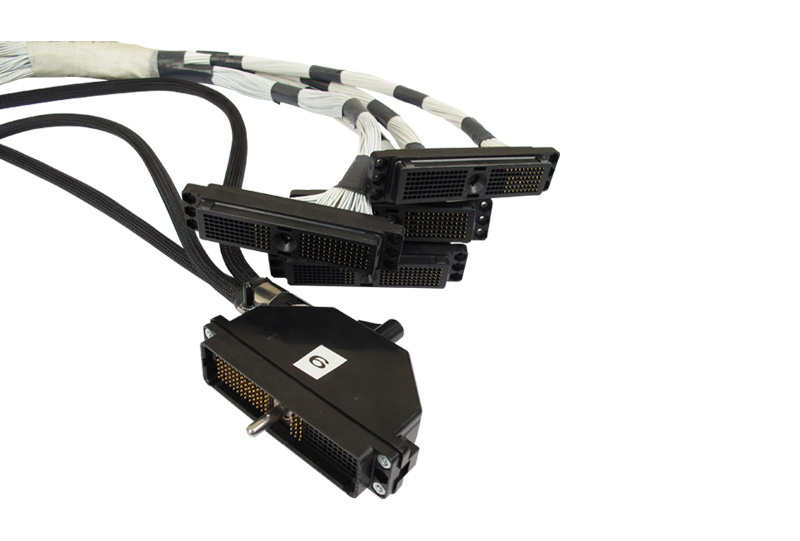 Test Equipment Harnesses and Interfaces
For effective testing, we can develop test harnesses that are designed to match your specific applications. In addition to high quality cable interconnects, you can count on the added value of reliable program and interface support.
As a cost effective solution, Co-Operative Industries provides marking services for customer supplied materials. With state-of-the-art laser identification technology, Co-Operative Industries can permanently mark a broad range of wire and cable jacket types and constructions to meet customer specific requirements.
This is a high quality, durable identification method for use with high performance fluoropolymer finished electrical wires and fiber optics used by the aerospace industry. Our system will effectively mark on PTFE (Teflon®), FEP, ETFE or similar jackets. These fluoropolymer materials can generally be marked in all forms including extruded polymers, thin tapes, or dispersion topcoats.
For a high quality finished product, count on the added value of Co-Operative Industries' Support Services.
Advantages:
State of the Art Ultraviolet Laser Marking Technology
High Quality, Truly Permanent Marking
Indelible Marking conforms to Airbus AIPS and Boeing BAC 5152/D6-36911; as well as meeting many other aircraft and harness manufacturer specifications.
Marks a Variety of Fluoropolymer Finished Wires and Cables (Single, Twisted Pair and Triplets)
Excellent Contrast and Visibility
Maintains Insulation Integrity
Variable Font Sizes and Placement
Laser Wire Stripping is Also Available
Our large in-house Braiding Department allows us to braid a variety of products (Stainless Steel, Brass, Nylon, Nomex®, PEEK™, Kevlar® and others). We offer the ability to braid complex harnesses, "Y" breakouts, 90 degree breakouts, etc.

Common applications include electrical wiring, landing gear and ignition leads. Advantages include:
Abrasion Resistance

Chemical Resistance

Non-Spark Promoting

EMI/RFI Shielding

Provides Moisture Barrier
Ground Support Interfaces
We have supported OEMs with test equipment and support harnesses, as well as assorted panel interfaces, for various GSE applications. Our engineering and manufacturing group works closely with the customer to emulate their specific product lines in the field, resulting in a seamless end product to the end user. Test panel applications include flight simulator support for a variety of airborne applications in both the military and commercial sectors.